NOCIL Rubber Chemical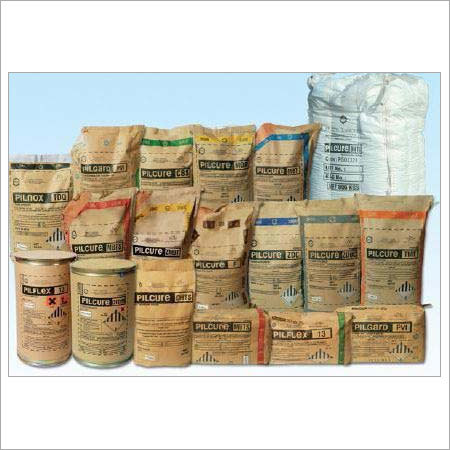 NOCIL Rubber Chemical
Product Code : 10
Brand Name : PAUL AND COMPANY
Backed by rich industry experience, we have been able to supply and distribute NOCIL Rubber Chemicals which is extensively used in footwear products, cycle tiers, Cables, rubber rollers and hot air cured rubber products. The range of NOCIL rubber chemicals offered by us is accessible in different grades like MBTS, MBT, F, CBS, DTDM, MOR, ZDC, TMT, ZDBC, ZMBT, 13, TDQ, SP and so on. Due to its high chemical stability, effectiveness and perfect composition, these chemicals are broadly appreciated by our valuable clients. Their NOCIL rubber chemicals range enjoys huge demand in India and around the world.
We are into supplying superlative quality
NOCIL Rubber Chemicals
that is extensively used in various industries. The range of NOCIL Rubber Chemicals offered by us is available in different grades like MBT, MBTS, F, CBS, MOR, DTDM, ZDC, TMT, ZMBT, ZDBC, 13, TDQ, SP and so on. We offer the NOCIL Rubber Chemicals at market leading rates.
We are authorized distributors of Rubber chemical for NOCIL in Delhi region. They are a part of the illustrious Arvind Mafatlal Group, a well-known Business House of India having diversified business interests. Their Rubber Chemical range enjoys huge demand in India and around the world.
About NOCIL
Commenced Rubber Chemical production in 1975
Their plant is in a designated 'Chemicals Zone' about 40 km away from Mumbai City
They are the largest manufacturer of Rubber Chemical in the country with the State of the Art Technology
They have ISO 9001, ISO:14001, BS OHSAS-18001 and ISO/TS 16949:2009-3rd Edition certifications. The acknowledgement of their Excellence in Customer Service Standards by their esteemed customers is only a few steps towards their commitment to 'Total Quality Management & Customer Satisfaction'.
The Quality Control Laboratory operates round the clock and is equipped with the latest Analytical Instruments & Equipments and the QA & QCL teams are manned by Qualified, well experienced & trained staff handling the responsibility of achieving Continuous Quality Improvement Goals.
NOCIL's Quality Control Laboratory has been awarded ISO 17025-2005 accreditation by NABL.
Packaging:
The Sulfenamide Accelerators – PILCURE CBS, PILCURE NS, PILCURE MOR, are offered in Pellet Form for improved shop floor environment, excellent handling characteristics, precise weighing accuracy and enhanced storage stability.
Other accelerators are supplied as dust suppressed Powders for achieving optimized rubber processing and vulcanizate properties.
PILFLEX 13 – Para phenylenediamine antidegradants and PILNOX TDQ Antioxidant are supplied in Free-flowing, dust-free Pastille Form which also ensure weighing accuracy considerably as compared to the flaked products.
PILNOX SP and PILCURE SDBC are supplied in the traditional Liquid Form.
Applications:
Cycle tyres
Footwear products
Hot air cured rubber products
Cables
Rubber rollers
Ebonites
Conveyor & v-belt
Tyres retreading
Appearance:
Cream
White
Dark purple
Brown
Specifications
:
Product
Product Form
Application
Pilflex 13
Pastilles
PPD Antidegradants. Very effective antiozonants; anti flex-cracking agents and antioxidants. Protection against metal ion catalysed oxidation
Pilnox TDQ
Pastilles
Staining Type antioxidant. Highly potent, persistent, and non-migrating
Pilnox SP
Viscous Liquid
Non staining, non-discolouring antioxidant
Pilcure MBT
Powder(DS)
Medium Fast accelerators for Sulfur cure. Offer flat cures. Vulcanizates of low modulus but very good ageing properties
Pilcure ZMBT
Powder(Treated)
Low free MBT content for production of NR Latex products
Piclure F
Powder(DS)
Readymade blend of MBTS activated with basic accelerators
Pilcure CBS
Pellets/Powder
Delayed action accelerators for Sulfur Vulcanization. Exhibit faster cure rates at Vulcanization temperature but are not activated at processing temperatures. The choice depends on the scorch safety and the properties of the Vulcanizates desired
Pilcure NS
Pellets/Powder
Pilcure MOR
Pellets
Pilcure TMT
Powder(DS)
Secondary accelerator and a sulfur donor for semi EV and EV cure
Pilcure ZDC
Powder(Treated)
Primary accelerator for Latex Compounds cured at low temperatures. Also used for Dry rubber compounds. Used as secondary accelerators with thiazoles, and sulfenamides based curing system
Pilcure ZDBC
Powder(Treated)
Pilgard PVI
Powder(DS)
An ideal scorch inhibitor for sulfur cured rubber compounds
Trade Information
Payment Terms
Cheque, Telegraphic Transfer (T/T)
Supply Ability
As per buyer requirement Per Week
Delivery Time
3 Days
Main Domestic Market
North India
"We are dealing only in North India & accepting orders with minimum quantity of 200 Kg"

Head Office: 1st Floor, Bhagat Chambers, Mansarover Garden Shopping Complex, New Delhi 110015
Address 2 : Ludhiana Jalandhar Chandigarh Baddi